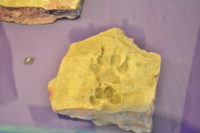 Istanbul Archaeological Museum
Brick with a Dog's Paw Print. Period: Middle Byzantine; Findspot: Istanbul. Material: ceramic.  In the Istanbul Archaeological Museum collections, there are rich and very important works of art belonging to various civilizations from the regions from Africa to Balkans , from Anatolia and Mesopotamia to Arab Peninsula and Afghanistan that were in the borders of the Ottoman Empire.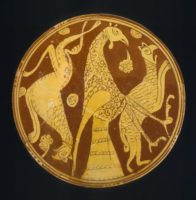 Dish of brown, fine-grained clay covered with a white slip. Period: Middle Byzantine; circa: Late 12th-early 13th c. The decoration is in champlevé, while the individual details are incised. A large standing bird is pictured between two bird-shaped animals resembling griffons but without wings. Dimensions: H. 0.07, Diam. of rim 0.235, Diam. of base 0.08 m.  On the ground tufted plants. Yellow, very good quality glaze covers the inner surface and the edge of the rim on the outside.  The Benaki Museum of Greek Culture is housed in one of the most beautiful neoclassical-style buildings in Athens, near the National Garden and the Hellenic Parliament.