Hagia Sophia…
is what motivates me to start my job as a professional tourist guide. The excitiment that I feel in this place where I've been visiting almost every day is just like the first day. I discover something new in each visit… the glow of the mosaics, the colors of the frescoes, the magnificence of the marbles and a cute cat who stands on the Empress Lodge posing for many tourists. This scene softens my heart because lots of people from all around the world are getting together with the love of a cat.
The name of this love is Gli "Union of Love" and here comes the life story of Gli: Archeologist Defne Bali who has worked for Hagia Sophia for years was like a mother to Gli. Gli had one brother, Pati and a sister, Kızım. Their mother was Sofi. They were born in 2004. Pati died, unfortunately. Bilgen Deveci, one of our restorers chose the name "Gri" (in English: Grey) for Gli at first. However, because of its cuteness and squinty eyes its name became Gli. I chose the name "Kızım" for her sister. When she was little, Kızım went under one of the maksures of Hagia Sophia and stucked there for a while. We saved her later but because she meowed so much then, she became silent for the next two years.
Photos from @hagiasophiacat Instagram Account:
Gli had only one kitten all her life. A beautiful jet-black she-cat named "Karakız" who had an accident because of a tour-bus. She stayed in a vet for a while for her broken back. However, we had no chance to take a care of him at the museum because of then-manager who hates cats so we had to put her sleep.
Gli became popular when the prime-minister R.Tayyip Erdoğan and then Obama stroked her.
Gli was a real hunter when she was young. She used to hunt birds, which she can't now because of his age and eyes.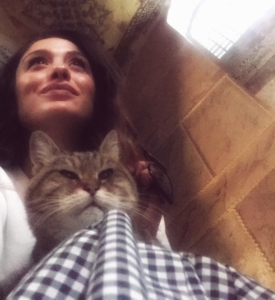 This post is written by Umut Bahçeci for hagiasophiaturkey.com
Love, Umut Bahçeci (Instagram: @mumuizm_  Mail: umutbahceci@gmail.com)
Follow Gli the St. Sophia Cat Instagram Account: @hagiasophiacat.  Thank you Peter Magenheimer (@peterjmag) for Encouraging me to open this account for Gli.
Featured Image Credit: Hagia Sophia Cat Tumblr Page