Experience an unforgettable night on the historic waters of the Bosphorus, and get to know Istanbul from a different perspective. Our exclusive Bosphorus dinner cruise lets you see this vibrant city in a whole new light, complete with stunning views, exquisite cuisine, and world-class entertainment.
Book Now
Book your spot on our Bosphorus Dinner Cruise and embark on a memorable journey through Istanbul's rich cultural heritage and culinary delights. Enjoy the comfort of our luxurious mega yacht, the vibrant atmosphere, and the awe-inspiring views that this unique experience offers.
Remember, our Bosphorus dinner cruise is not just a meal or a sightseeing tour – it's an unforgettable experience, a voyage into the heart of Istanbul. Don't miss your chance to experience it.
A Grand Welcome Aboard Our Luxury Yacht
Your captivating journey begins with an invitation to step aboard our luxurious mega yacht. As you settle into your private table, you'll find yourself entranced by the panorama of Istanbul, twinkling beneath the evening sky.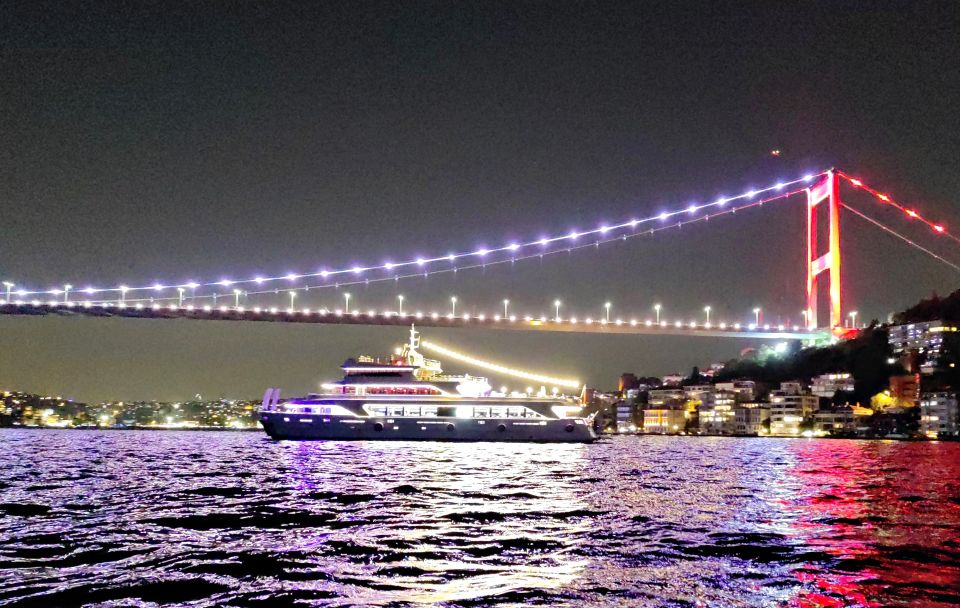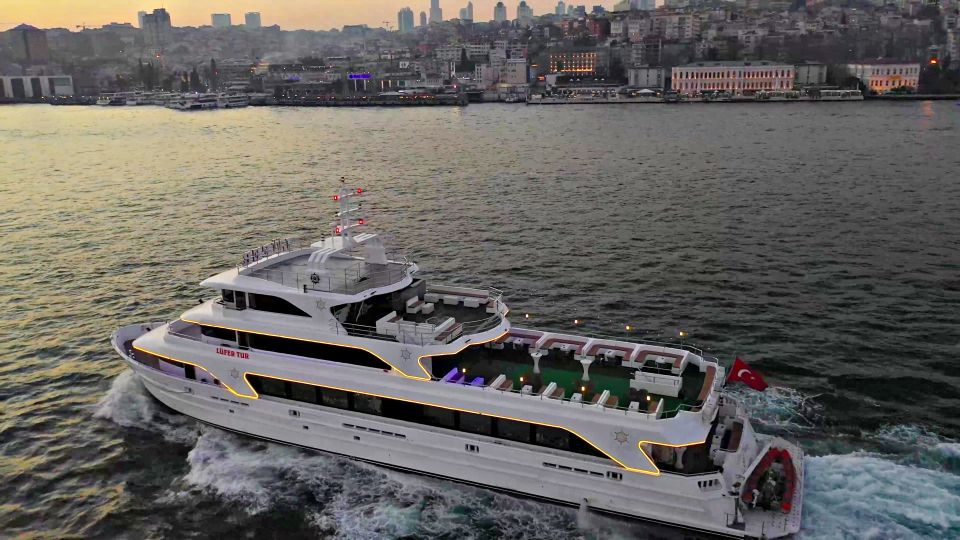 Witness the Splendor of Istanbul's Landmarks
Our yacht course offers exceptional views of the city's famed landmarks. Behold the majestic Dolmabahçe Palace, a dazzling example of the Baroque Revival architectural style. The regal Galata Tower and the timeless Maiden's Tower offer glimpses into Istanbul's rich past.
Further along the cruise, the Ortaköy Mosque, a striking piece of Neo-Baroque architecture, stands proudly against the skyline. Marvel at the grandeur of the Bosphorus and Fatih Sultan Mehmet Bridges as they elegantly span the Bosphorus Strait.
Near the end of the cruise, the Beylerbeyi Palace comes into view. This waterside Ottoman marvel is sure to leave a lasting impression.
Savor a Delectable 3-Course Meal
While drinking in these views, enjoy a gastronomic journey through Turkish cuisine with a carefully curated 3-course meal. Begin with an appetizer plate featuring a variety of seasonal salads or hot starters. Then, select from a range of main course options, including mixed grilled meat, freshly-caught seasonal fish, or a vegetarian feast.
The final course, dessert, presents a chance to indulge in traditional Turkish sweets or a rich, fruity chocolate cake.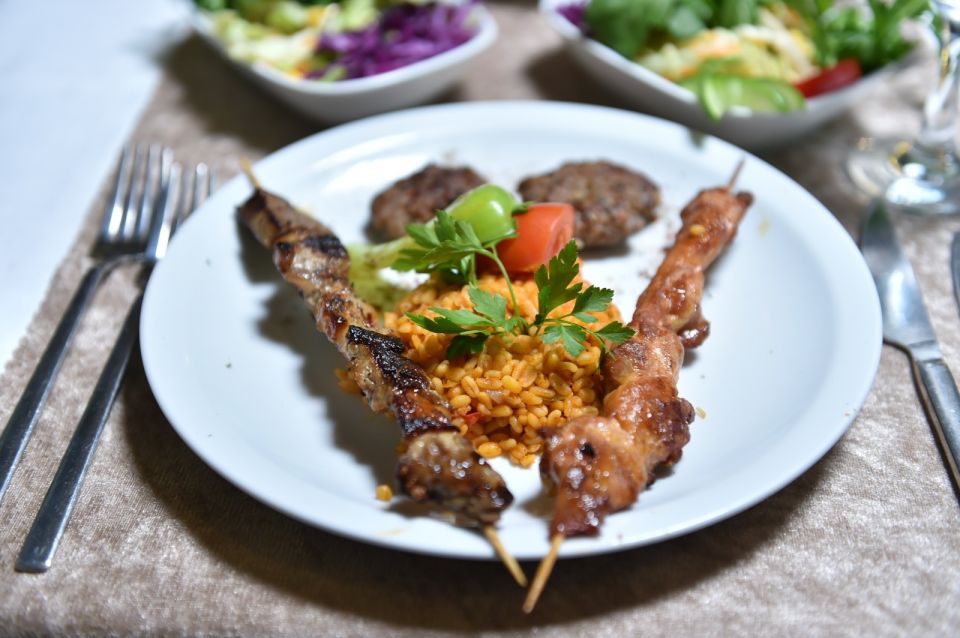 Relish in World-Class Entertainment
Complementing the culinary experience is an array of live performances. This includes traditional Turkish folk dances, the ethereal swirls of Dervishes, pulsating Latin dances, flamenco, Sirtaki, and the exotic moves of belly dance.
Moreover, our resident DJ provides a dynamic soundtrack to the evening, ensuring a vibrant atmosphere aboard the yacht.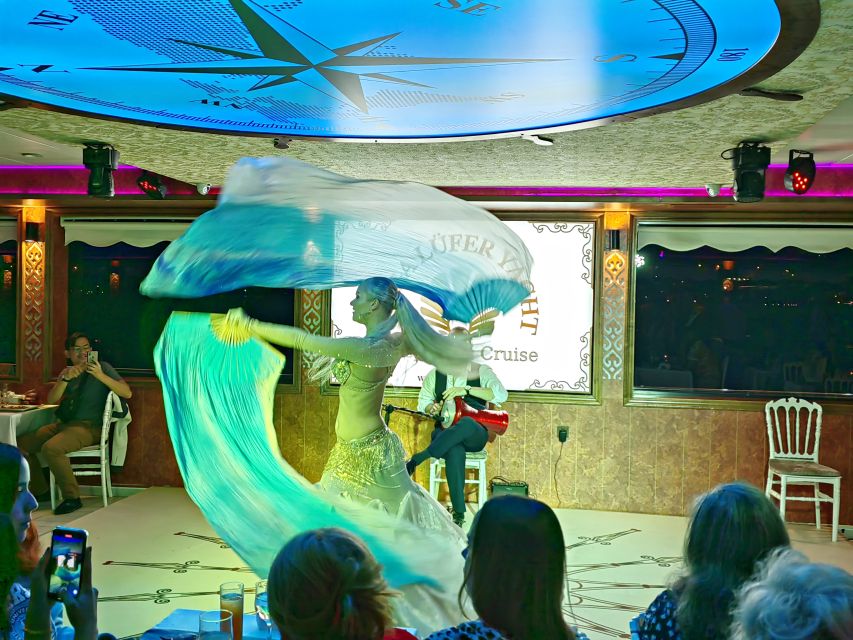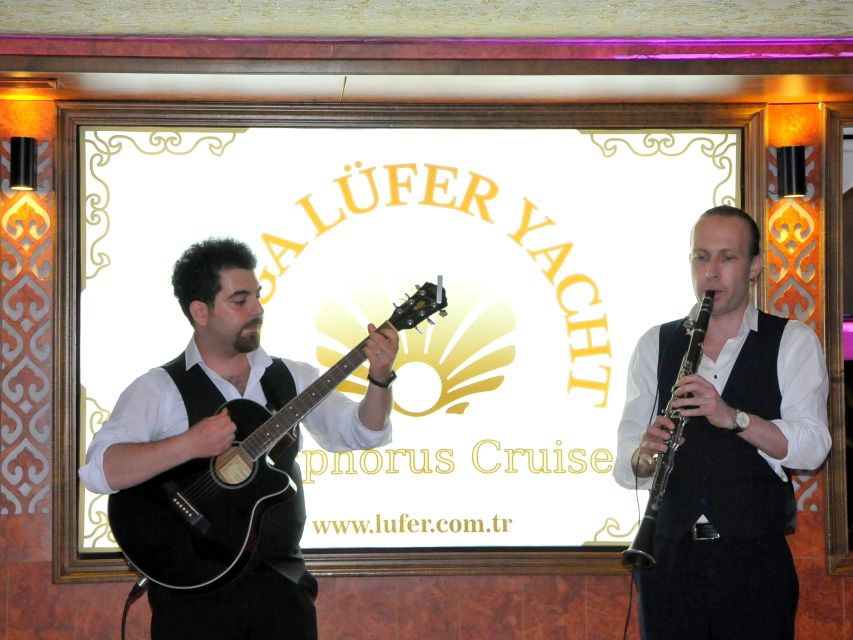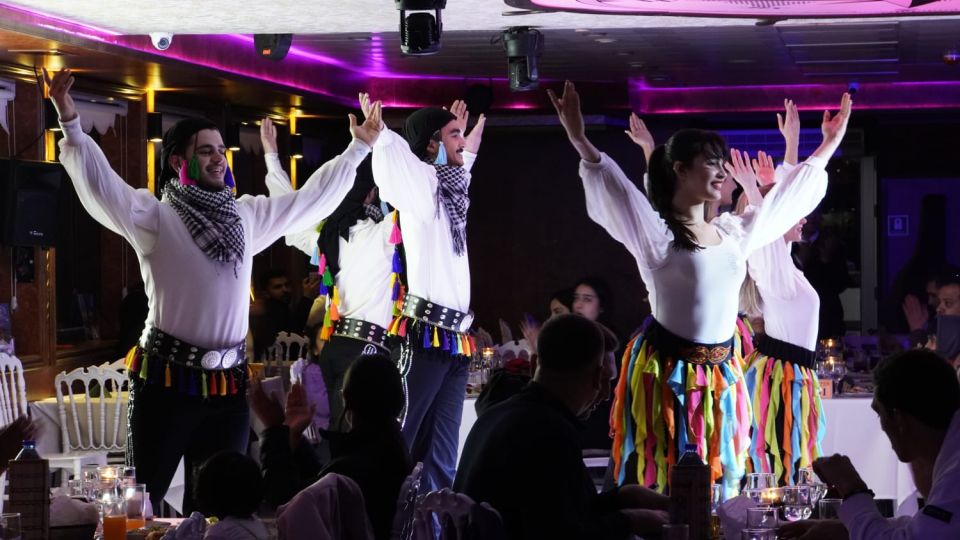 VIP Menu: For the Discerning Palate
For those seeking an elevated dining experience, we offer a VIP menu. Delight in a wide array of appetizers, including ten types of mixed Turkish appetizers or a medley of succulent seafood. Main dishes offer an array of choices, including beef medallion, a mixed grill plate, a seasonal seafood grill, or a vegetarian vegetable casserole.
Rounding out the VIP menu is a selection of delectable desserts and fresh fruit, complemented by unlimited local and non-alcoholic beverages.
Convenient Travel Arrangements
We provide a range of travel arrangements to ensure a seamless experience. This includes optional hotel pickup and drop-off services in air-conditioned comfort. These services cover a broad array of locations in Istanbul, including Sultanahmet, Taksim, Sirkeci, Mecidiyeköy, Sütlüce, Kağıthane, Kabataş, Eminönü, Şişli, Aksaray, Karaköy, Levent, Beyoğlu, Topkapı, and Zeytinburnu.
Should you prefer to make your own way, the pier is easily accessible. Located near the Kabatas tram station and a 5-minute walk from Dolmabahçe Palace and Galataport, getting there is a breeze.
Your Special Dietary Requirements, Catered
Whether you're vegetarian, pescetarian, or halal, we cater to a wide range of dietary needs, ensuring every guest can enjoy the culinary delights on offer.