Embark on an eight-day adventure that takes you through the breathtaking landscapes of Istanbul, Cappadocia, Konya, Pamukkale, and Ephesus. In this comprehensive package, not only do we provide top-notch accommodation, but we also include breakfast, entrance fees, and the company of highly experienced guides to enhance your journey.
Book Now
Join us on this grand tour for an unmatched immersion into the historical, cultural, and scenic grandeur of Turkey.
8-Day Turkey Tour Itinerary
Day One: Arrival in Majestic Istanbul
Begin your adventure with your arrival at either Istanbul IST or SAW airports. Our representatives, eagerly awaiting your arrival, will greet you with a personalized name sign and arrange a private transfer to your exquisite hotel for your first overnight stay in Istanbul.
Day Two: An All-encompassing Tour of Istanbul
Kick start your second day with a hearty breakfast, after which we will escort you on a walking tour of Istanbul. The day's itinerary includes visits to the magnificent Topkapi Palace, the mesmerizing Hagia Sophia, the stunning Blue Mosque, and the historic Hippodrome – a testament to the Byzantine era. The tour culminates with a visit to the Grand Bazaar (or Spice Market on Sundays), where you can indulge in a shopping spree before retiring for the night in Istanbul.
Day Three: From Istanbul to Izmir – The Ephesus Tour
Begin your third day with an early morning pickup from your hotel, followed by a swift transfer to Istanbul IST or SAW airport. Upon landing in Izmir, our knowledgeable tour guide will join you and guide you to the ancient city of Ephesus. Notable visits include the Artemis Temple and the House of the Virgin Mary, located in the scenic Aladag Mountains. The day ends with an overnight stay in Kusadasi.
Day Four: The Marvels of Pamukkale
The fourth day commences with a drive to Pamukkale, known for its surreal white terraces, and Hierapolis, a well-preserved ancient city. Soak in the marvels of these heritage sites before you retire for the night at a Thermal Hotel.
Day Five: Unraveling the Mysteries of Cappadocia
Venture to Cappadocia on the fifth day, stopping along the way to visit the Mausoleum of Mevlana, a revered mystic, and the Sultanhani Caravanserai, an inn that offered respite to travelers of yore. Spend the night in a cave hotel, an experience unique to Cappadocia.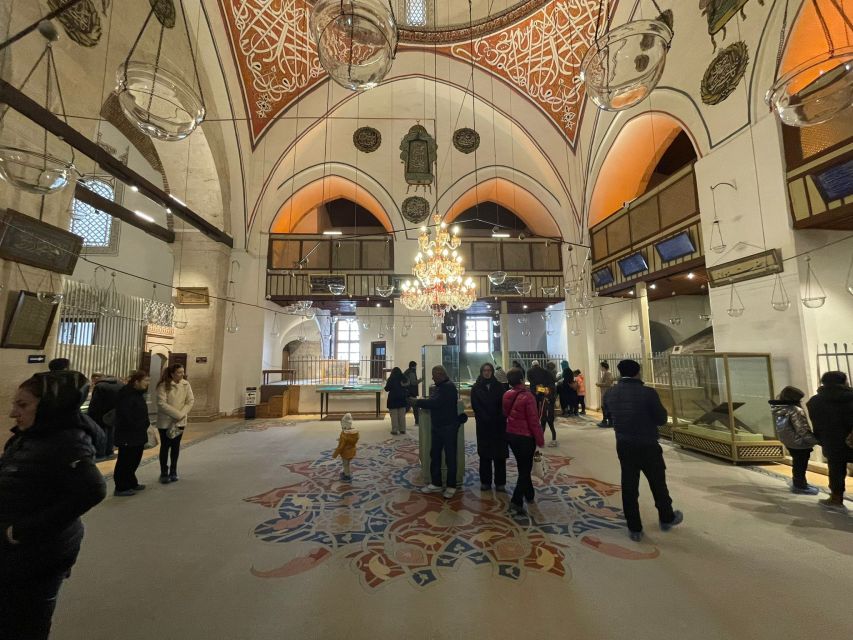 Day Six: The Fairy Tale Land of Cappadocia
Witness the intriguing Three Sisters Fairy Chimneys in Urgup and visit the Kaymakli Underground City. Explore the famous Goreme Open Air Museum and ascend the Uchisar Rock Castle for a panoramic view of Cappadocia's valleys. Stay overnight in a traditional Cappadocia cave hotel. This day also presents the optional opportunity to experience hot air ballooning during sunrise.
Day Seven: Return to Istanbul
Start the day with a visit to the lunar-like Devrent Valley, followed by a stop at Avanos, the hub of terraca work dating back to 3000 BC. Participate in a pottery workshop demonstration and then take a domestic flight from Kayseri to Istanbul. Spend your last night in Istanbul at your leisure.
Day Eight: Farewell
After a final breakfast, check out from the hotel and savor a smooth private transfer to the airport. Your 8-day tour has come to an end, but the memories of this journey will last a lifetime.
Included in the Tour
To make your journey seamless, we've included a number of key elements in the tour:
7 nights accommodation: Enjoy stays at premium boutique hotels in Istanbul, Kusadasi, and Pamukkale, along with the unique experience of a cave hotel in Cappadocia.
7 breakfasts and 2 dinners: Start each day with a wholesome breakfast and enjoy two included dinners in Kusadasi and Pamukkale.
All entrance fees: Access to all the sites mentioned in the itinerary is taken care of.
Private airport transfers: Enjoy hassle-free transfers to and from the airport in a private vehicle.
Domestic flight tickets: Your flight from Istanbul to Cappadocia and Izmir to Istanbul are included.
Guided tours: Gain in-depth insight into each location with our experienced guides.
Optional extras such as a hot air balloon ride, lunches, dinners in Istanbul and Cappadocia, and tips are not included.
Important to Know
The itinerary can be re-routed without changing the sites visited, accommodation, or service standards, depending on domestic flight availability and public holidays.
The Grand Bazaar is closed on Sundays, so the Spice Market will be visited instead.
A reverse itinerary can be organized based on flight and hotel availability.
Detailed itinerary will be emailed after booking.
For Sunday departures, the Istanbul tour will be scheduled at the end of the tour.