Chora Museum consists of five main parts: the annexes, the parakklesion, the inner & outer narthexes and the naos. The Parekklesion was a chapel that include the burial recesses of Theokites and the nobles. The parakklesion is decorated with astonishing frescos with the scenes from the Judgment Day & Resurrection.
1- Anastasis Scene:
Meaning ''standing up again'' in Greek, Anastasis is one of the finest example of frescoes in the world. It is located in the semi-dome of the apse.
The fresco symbolizes a physical resurrection of humankind.
In the center, Christ is depicted in a three layered mandorla – symbolizing trinity. In each layer, there are eight pointed stars. Christ wears white garments. He grabs the wrists of Adam & Eve by pulling them out of their sarcophagi. Eve is wearing red clothes. Inside Eve's sarcophagus, Abel-her son is also standing.
The doors of hell is broken down under the feet of Christ. The locks, nails and chains are scattered around Satan whose hands, feet and neck are tied up.
While Abel is followed by a group on the right of Christ, on the left John the Baptist points Christ to the kings – including Solomon him.
2-Resurrection of the son of a widow.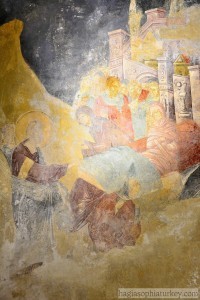 3- The Judgement Day
Deesis
Seated in the center of a multi-layered mandorla, Christ is surrounded by Mary, John the Baptist, 12 disciples, martyrs prophets. Mary and John the Baptist are praying for the salvation of the humanbeing.
The Last Judgment
Under the Deesis scene, there is Hetoimasia Jesus on a throne (there is no image of him but a cloth of him) accompanied by 2 seraphims. Adam and Eve are paying homage, kneeling down on each side of the throne. Under them, two angels are weighing and recording the good works & sins of mankind. The sinners are depicted to be sent to hell.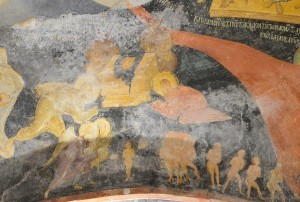 Scroll of the sky
An angel carries the scroll of the sky with sun, moon and stars in it. It is surrounded by the choirs of saints, bishops and disciples.
to Read More click next.