History of Chora 
Housing the best examples of the Byzantine mosaic art, The museum of Chora is located in Edirnekapı district, Istanbul. Though its first construction date is unknown, the Chora Church was originally built atop a necropolis. Due to its location which was countryside, the church was named as ''Chora'' suburban in Greek.
The monastery was rebuilt by Justinian in the 6th century and it was dedicated to Christ. Having survived a number of earthquakes, the building was used as a burial site for a while.
No matter it was rebuilt in 1120 by Isaac Komnenos, the church was in ruins until the 14th century.  Theodore Metokhites (1270-1332)who was a pre-eminent statesman of the of the Byzantine Empire is renowned most for his contribution to Chora. Granted as a Megas Logothetes and the ''letetor'' (the one who constructed on Orthodox church), Metokhites was also the Minister of Treasury and a poet. After building the Chora Church, Metokhites dedicated the church to ''Meter Theou'' (Mother of God) and founded also a rich library.
Metokhites was sent to exile for 2 years in 1328. When he returned, he was only permitted to live in Chora for the rest of his life. His tomb was placed in a burial recess in the parakklesion.
Later, his friends were also buried in this part of the church. In the church, there were eight tombs which were destroyed during the Ottoman Period.
In this glamorous church, the life of Mary and Christ was narrated visually chronically.
The Chora has also a mystical meaning ''the womb'' which is a representation of the womb of Mary. The womb that contains Christ is depicted on the entrance door.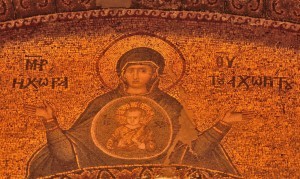 In Ottoman times, the Chora remained as a church until Sultan Bayezid II. When it was turned into a mosque a mihrab, a minbar, and a minaret were added to the structure. The main dome carried by four arches and destructed mostly was built by Turks in a later time.
Mosaics of Chora
Chora Museum consists of five main parts: the annexes, the parakklesion, the inner & outer narthexes and the naos . Inner & outer narthexes house most of the mosaic works that tell the life story of Mary and  the miracles of Christ. The parakklesion is decorated with astonishing frescos with the scenes from the Judgment Day & Resurrection.
The outer narthex shows us the nativity, the miracles of Christ and the massacre of the innocent.
The mosaics were covered with a thin layer of paint in Ottoman Period which made them survive today.
In naos, the mosaic panel describing the death of Mary is a masterpiece. The naos is also famous for its marble ornaments which include the onyx, red and porphyry columns that came from different places of the world.