Chora Museum consists of five main parts: the annexes, the parakklesion, the inner & outer narthexes and the naos. Inner narthex house most of the mosaic works that tell the life story of Mary and  the miracles of Christ.
Mosaics
1- Inside the northern dome of the inner narthex, the 16 ancestors of Virgin Mary are depicted in double rows. In the center, Mary and baby Christ on her leap are seated. We can see the monograms of ''Mother of God'' around her.
2- Inside the northern dome of the inner narthex, the 24 ancestors of Christ Pantocrator are depicted in 2 rows. In the center Christ is performing benediction with his right hand. He has a bread and a nimbus around his hand. The names of each ancestor are inscribed over their heads.
3- In this mosaic, we see Zacharios whose hands are open as a sign of rejecting. He doesn't accept the sacrifices of Joachim and Anna -the parents of Mary- because they are childless.
4- Joachim whose sacrifices have been rejected is seen praying & fasting for forty days. We see him inside bushes sitting broodingly. There are two shepherds near him.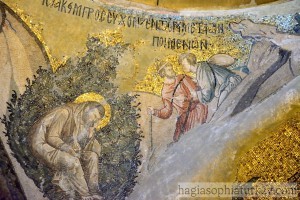 5- Under the mosaic of Joachim, there is a scene of good news. The archangel Gabriel is announcing Anna that she will have a baby. Anna is in the garden, her hands are open to sky like she is praying. Behind her, a servant sitting in the niche is looking at them.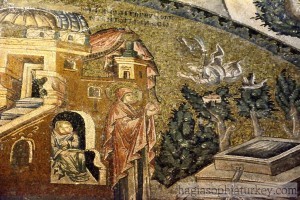 6- The Birth of Theotokos: In this scene, while Anna is greeting the gifts the women has brought after birth, baby Mary is ready for a bath. A maid is making her cradle Joachim is watching them .
to Read More click next.